Sep. 03, 2021
Did you know that there are a variety of pipe fittings to choose from? Some fittings look so similar to each other that it can be difficult to know which one you need. But don't worry, BONA is here to help. In this article, we'll review a few different types of fittings and look at how they differ from others in the industry. Let's take a look!
What is a tube nipple?
In terms of pipes and tubes, a pipe nipple is a type of tubing which is a small section of pipe. The short section usually has a male threaded (MPT) connection at each end of the fitting and is used to provide a watertight seal when connecting the pipe to threaded fittings, valves or equipment.
Barrel Fittings
Barrel fittings, sometimes referred to as barrel fittings, have tapered NPT threads at each end with an unthreaded section in the middle, unless otherwise stated. Fittings with threaded ends are usually referred to as TBE, which stands for threaded at both ends.
Toe fittings
TOE stands for threaded at one end. This type of nipple is often used as a leg for tanks.TOE fittings are sometimes confused with welded fittings, but true welded fittings have bevelled ends, which are necessary for butt-weld connections.
Closing nipple joints
Closure nipples have no unthreaded area, which means that when the two female fittings are tightly screwed onto the ends of the nipple, very little of the nipple remains exposed.
Seamless tube fittings
Seamless fittings do not have weld seams that extend along the length of the fitting. Seamless fittings are structurally stronger and are designed for high pressure applications.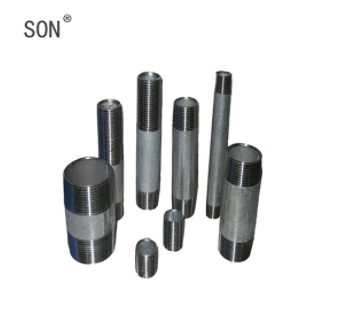 Shoulder nipple shoulder
The shoulder nipple is longer than the closed nipple and has a very short threadless space between the threads. The threadless space is not large enough to fit a tube nipple. When the two female connectors are screwed onto either end, a small piece of the teat will remain exposed. The shoulder nipple is the first nipple length that extends upwards from the closed nipple.
Combination/oversized fittings
A combination fitting or sometimes called a king fitting, is an extremely versatile way of transitioning from hose to thread. End connections are used for fluid service only and should not be used for air service or steam service. The most common connection is the MPT, but you can also find them with a female NPT (National Pipe Thread), flange or a blank beveled end for welding.
Type-forged pipe couplings
You can find profile forged fittings with flat, bevelled or threaded ends. The purpose of a profile forged fitting is to change the diameter of a pipe and connect two different sizes of pipe. Threaded fittings are divided into concentric and eccentric threaded fittings. Concentric threaded joints are mainly used for vertical pipes; eccentric threaded joints are mainly used for horizontal pipes.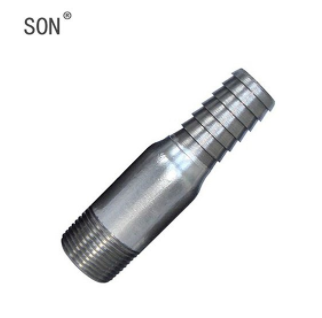 Hexagonal nipple
The hexagonal nipple gets its name from the hexagonal middle part. The hexagonal shape allows a spanner to grip it securely. If you encounter a hexagonal teat with two different sizes at each end, it is referred to as a reducer teat or unequal teat.
There may be other teats in the industry and these are the more common types you are most likely to encounter. To find out more, please contact us - a professional manufacturer of pipe fittings.