Sep. 17, 2021
Identifying flanges is one of the challenges faced by anyone dealing with hydraulic systems. Their reliability is vital to the integrity of the system. In order to find the right flange for your system, you need to consider the following factors during the purchasing process.

Selecting the material
Depending on the environment in which the flange will be operating, it is important to choose the material of the flange. Flanges may need to withstand pressure, humidity, high temperatures, corrosion, etc. They are usually made from stainless steel or carbon steel as well as copper-nickel. You can find various materials in BONA.
Types of flange
Figuring out the type is the easiest step. All you have to do is look at it. The most common types of flanges are:
1,Welded neck - has a tapered hub and is mainly used in high pressure systems.
2,Slip-on - fits over the pipe and is welded inside and out to improve durability and avoid leaks.
3,Blind Hole - Used to close the end of the valve and the pipe, suitable for high pressure environments.
4,Swivel flange - consists of two parts, a forged weld hub and a swivel forged ring.
5,Threaded - Connects to the pipe without welding, used in thick-walled pipes to form internal threads.
6,Socket Weld - Connected to the pipe by a fillet weld on the outside of the flange.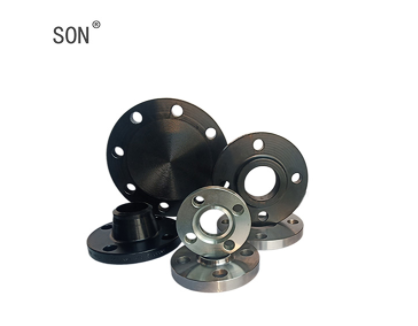 Pressure Rating
The pressure rating of a flange determines the pressure it can withstand or operate at without fracture. Each of the above standards offers several pressure ratings, from low to high. The pressure rating of a flange must be compatible with the pressure rating of the parts working within its system.
Sizing
Measuring the dimensions of a flange is not an easy task. You need to find the outer diameter, the inner diameter, the number of bolt holes, the bolt hole diameter and the bolt circle diameter.
The bolt circle diameter (BC) is one of the most important measurements when identifying a flange. It is measured from the centre of the bolt hole to the centre of the other bolt hole located on the other side of the flange.
Consider the thickness
A very important flange parameter is its thickness. It determines the amount of pressure that the flange can withstand. The thicker the flange, the higher the pressure it can withstand. To measure the thickness of a flange, simply measure the outer edge of the part.
Read the standards
There are many standards available for selecting the right flange for your needs. Depending on the application you are considering and the other components with which the flange will interact, you are likely to be faced with ANSI (American National Standards Institute), DIN (German Standards Institute) and JIS (Japanese International Standards) when selecting a flange.
At BONA we offer all types of flanges for a wide range of systems, for more information on our products and services please contact us.